Version française
Collaboration between RQD and Regards Hybrides
Making Screendance: from Ideation to Marketing, Theories and Practices
Develop your screendance practice, from theory to experimentation, with a group of seasoned professionals with plural expertise!
Offered in French only
Collaboratively, the RQD and Regards Hybrides's Screendance Squad have created this new course to teach dance artists and their teams the skills to embark on or further their artistic practice in screendance, from idea to market ready artwork for digital platforms, television, or dance and film festivals.
The course is divided into nine (9) modules for a total of 62 hours. You can attend all or some of them! Click on the links for a detailed description of each module.
Theory (12 hours, online)
Subsidized Rate: $25/module – (actual price: $240/module)
Practice (50 hours, live in studio)
Subsidized Rate: $90/module – (actual price: $900/module)
Learning Objectives
Know the history of screendance as well as useful screendance theory.
Conceive of choreography from audiovisual possibilities rather than stage possibilities.
Explore the relationship between the body, movement, and the camera, experimenting with different film technologies.
Consider film and video screendance editing from a choreographic lens.
Understand the possible administrative, legal, and contractual frameworks for screendance production.
Discover networks, platforms, and presentation opportunities available to screendance artists.
Consider screendance presentation and programming.
Who should attend this training?
Dance artists and their production teams, beginners or advanced practitioners.
Instructors
This course is offered by Regard Hybrides's Screendance Squad, a team of talented professional artists offering a variety of skills and artistic visions.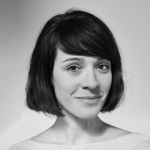 Priscilla Guy is a performer, choreographer, filmmaker, curator, and arts researcher based in Marsoui (Gaspésie). In 2012, she founded Regards Hybrides, now a worldwide reference in screendance through its online platform, an international biennale and several screenings every year. Her academic research is published regularly, notably with The International Journal of Screendance and The Oxford Handbook of Screendance Studies. She has a doctorate in Feminist Studies and Screendance from the University of Lille (France).
Kim-Sanh Châu is a Vietnamese-French contemporary dance artist based in Tio'tia:ke (Montréal). Her dance practice takes the form of choreographic and video installations. Her work has been presented through several international festivals, including SIDance (Korea) and Krossing-Over (Vietnam). She regularly works for other artists, the most recent being George Stamos, Kimura Byol and Catherine Lavoie-Marcus.
Marlene Millar is a filmmaker (writer, director, editor, producer, and mentor) who has created dance films, documentaries and experimental media productions for over 30 years. In 2019, her career was honoured at a retrospective exhibit at Threshold Artspace, Perth, UK. Her films have garnered over 30 awards and prizes internationally. A prolific educator and mentor, Millar has taught filmmaking across continents for different organizations and institutions.
Sonya Stefan is a media and dance artist whose specialty is analog (16 mm | VHS), video mapping and live feedback projection. She creates screendance that hugs the border between deconstructed experimental film and documentary filmmaking. She won the 2021 Best National Medium-Length Film at the Montréal International Documentary Festival (RIDM) for her dance documentary The Truss Arch. Her recent collaborations are with multimedia dance company Animals of Distinction, Berlin's experimental music act Group A (Tommi Tokyo and Sayaka Botanic) and Toronto's Newton Moraes Dance Theatre.
Claudia Chan Tak is a multidisciplinary artist trained in visual arts (Concordia, bachelor's degree, 2009) and contemporary dance (UQAM, bachelor's degree, 2012 and masters degree, 2017). Her first short film, La Buvette des carnivores, received the Cinémathèque québécoise's prize for best director at the Quartiers Danses Festival in 2015. Her work has been celebrated, namely in 2018 with the prestigious Patrons of the Arts prize. For the past few years, she has been offering screendance workshops to teenagers and emerging artists.
This training is offered by le Regroupement québécois de la danse and developed by Regards Hybrides. It is made possible through the financial support from the Gouvernement du Québec and Compétence Culture, comité sectoriel de main-d'œuvre en culture.