Version française
Regroupement québécois de la danse
CANCELLED – Mutualization: effectively sharing ideas, projects and resources to improve the ability to act
Get the most out of resource-sharing processes by approaching them clearly and methodically!
Offered in French only. Possibility of offering training in hybrid mode for participants from the regions.
Does your development feel blocked by a lack of financial and human resources? Identify and learn to create processes aligned to your vision and needs through collaborating, sharing expertise, or sharing human, material, or operational resources.
Following an overview of different aspects of resource-sharing processes, from planning to implementation, this professional development activity offers to question the DNA of your organizational structure: its identity, activities, and operations. We will then consider how you might develop relationships and pool resources with one or several other organizations.
With presentations, examples of varied existing models of mutualization, practical exercises, and a guest expert, you will be equipped to make clear choices for relevant, responsible, and sustainable management.
Learning Objectives
Understand essential notions and necessary steps in a typical mutualization process.
Identify inherent conditions in successful resource-sharing processes.
Evaluated the relevance of sharing resources as a solution to existing challenges.
Identify the kind of resource-sharing best suited to your organization and activities.
Identify possible mutualization partners for your organization.
Individual Support
There is the possibility of having an individual meeting of up to ninety (90) minutes after the group session.
Who should attend this training?
Independent artists, managers, and cultural workers in dance, self-employed or salaried.
Instructor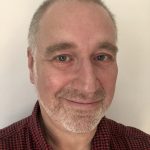 Artist, manager, consultant, researcher, and instructor, George Krump has been working in arts and culture for over thirty years. Namely through the DAIGLE/SAIRE firm, he completed several terms related to cultural or professional development, human resources issues, strategic planning and synergies between organizations that share resources. He is also the chair and cofounder of Machinerie des arts.
This training is offered by the Regroupement québécois de la danse. It is made possible through financial support from the Gouvernement du Québec and Compétence Culture, comité sectoriel de main-d'œuvre en culture.