17 mai 2018
Deepening the Conversation Among Performance Curators in Canada: The Interrarium Curator's Symposium
"The three pillars of the Syrian arts community are freedom, dignity and justice.
I add to this: beauty.  Esthetics is a basic human right."
Alma Salem, Syrian curator living in Montréal,
April 5, 2018 at the Banff Centre
This Canadian symposium held at the Banff Centre for Arts and Creativity on April 3-6 2018 marked a veritable turning point in conversations about live arts curation in Canada. Thirty dance, theatre and performance art curators, academics, artist-curators and producers answered the invitation to join the group. The four-day exchange about critical ideas and innovative models included thematic sessions, open roundtables, breakout groups, a one-on-one and also a silent walk with an "aligned group" in the woods. In the revitalizing mountains of the Banff Centre, we were offered ample time to nurture a deeper understanding of the deeper meanings of our work in the art world.
We were reminded that ours is a practice which until only a decade ago had not yet developed a body of theory or literature or courses of study. Acknowledged only recently by arts councils in Canada (since 1990 in Québec), performing arts presenters have now become crucial gate-openers for contemporary performing artists. As we each articulated our driving curatorial visions in a first tour du table, it became clear that we are in the midst of a new phase of consolidation in Canada, as witnessed by the surge of permanent infrastructures being built across Canada. Even as we provide artists with access to these theatre spaces and the necessary supporting services, we spoke about the many ways in which as curators we also nurture artistic creation and create educational frameworks in which performances are interpreted and evaluated by audiences, funders and critics.
"The act of curating is an act of becoming."
Nicole Mion, curator living in Calgary and Vancouver
April 3, 2018 at the Banff Centre
We spoke openly about the effects of our acquired power and responsibilities, the significance and impact of our work in the contemporary art world. Live arts "presentation" in Canada is a métier with origins in the for-profit production of performances because initiated by impresarios seeking touring opportunities and venues for popular entertainers. It was not at the outset a practice conceived by arts-educated historians and critics, as was the case for our museums and galleries in the visual arts. We recounted some of our histories about building an alternative, non-profit circuit of performance venues and presenting organizations, forged from the ground up. Those of us sitting around the table were, along with some large-scale producers, determined to advance the development of contemporary performance and audience interest in our local communities.
"My aspiration is for a critical form of curation."
Tom Seller, dramaturg, curator, publisher, professor at Yale University
April 4, 2018 at the Banff Centre
For ten hours a day over four days, conversations were frank and open, themes vast and varied. Exchanges were sometimes thorny, other times invigorating. We remained respectful and attentive, clearly eager to set a collegial tone. In our densely-woven dialogues we conspicuously avoided the all-too-predominant subject of money (unless to bring forward the influence of government funding). Discussions turned towards the social purposes of contemporary art, with considerations of the politics and economics of power as well as the vitality of disruption and the fostering of both global and local narratives. Pivotal current-day issues gave grounds to the discussions:  decolonization, ethics and best practices, cultural listening. Artistic and curatorial practices were also at the heart of the matter, as we talked about poetics and beauty, critical art theory, imagination and creativity, and arts education. This is only a sampling of subjects, as there was so much more! Most importantly, we periodically returned to recognize the politics of who was/was not "at the table" and why, both literally (at the symposium) and metaphorically (in the larger community of artists and curators).
"I bring artists in…to instigate conversations around dance…
to help create beauty that inspires, and moments of awakening."
Holly Bright, Canadian curator living in Nanaimo
April 3, 2018 at the Banff Centre
Several educators and curators from outside of Canada joined the group, offering points of view that confronted us with new considerations from extra-Canadian cultural contexts: Belgium, Germany, the United States and Syria. Widening and decolonizing the conversation, Canadian participants included people of colour and of various descents: African, Asian, Indian and First Nations. We fervently argued – sometimes with discomfort, about white privilege and the exclusion of brown, black and indigenous peoples. We reconsidered the cultural contexts in which we have fostered Canadian views on racism, transparency, democratization. First Nations' curator and scholar Julie Nagam illuminated her cultural frame of reference, reminding us that indigenous methodologies are embodied and reciprocal, about activating spaces, and collaborative and community-oriented models.
"To curate is to transform…
We need to move towards disruption, commitment, emotion, stickiness."
Michele Steinwald, US/Canadian curator living in Minneapolis
April 3, 2018 at the Banff Centre
Each of us began by revealing the driving forces behind our individual curatorial practices. We declared our allegiances to the artists, the arts practice itself, our audiences and the community, in various combinations. Some of us are allied with younger or mid-range artists, others committed to bringing in seminal, large-scale companies to our cities. Victoria Blakeley-Mohr reminded us of the necessity to ask the artist: « what do you want people to know and understand about your work?" We recognized that there is not yet a common definition of curator or the curator's work, reflecting on the double etymology of the term that is sourced the Latin curare: to care for and also to cure. We envisioned curation in many ways: as "audience dramaturgs," facilitators, researchers and critical thinkers, producers, educators, artists supporting artists, event framers, caretakers and nurturers. Many of us see our work as a form of political activism, recognizing our role as artistic citizens and as community arts organizers.
"Are we here to pacify, entertain, educate, provoke thought, promote inclusivity? Are we artists shaping art? Are we [after all] that important to the world?"
Donna Spencer, Canadian curator in Vancouver
April 3, 2018 at the Banff Centre
            When asked in Michele Steinwald's workshop presentation to name the skills needed to recognize difference and articulate biases, we spontaneously formed a list of over thirty qualities, that Tom Seller remarked was "a great job description for curation." A sampling of these abilities: empathy, mindfulness, comfort with discomfort and disruption, capacity to collaborate and facilitate difficult conversations. There was also: diplomacy, courage, intellectual curiosity, resistance to habit and to ego, imagination, willingness to assess one's power and step aside. And Robin Poitras encapsulated these abilities for us in a single poetic metaphor: the willingness to let the garden grow without a garden architect.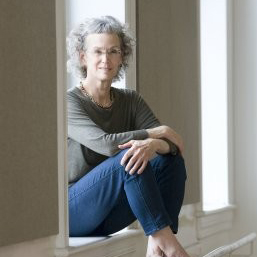 Dena Davida
Canadian curator in Montreal
© Nathalie St-Pierre
Invited participants: Holly Bright, Rohit Chokhani, Ann Connors, Dena Davida*, Piet De Fraeye, Denise Fujiwara, Jane Gabriels, Jenn Goodwin, Gustavo Fijalkow*, Denise Fujiwara, Sasha Kleinplatz, Cathy Levy, Timothy Long, Nicole Mion, Victoria Mohr-Blakeney, Gerry Morita, Julie Nagram, Freya Olafson, Robin Poitras, Edward Poitras, Joyce Rosario, Alma Salem*, Vivine Scarlett*, Jim Smith, Lyanne Sparrow, Donna Spencer, Tom Sella*r, Michele Steinwald*, Andrew Tay, Brian Webb.
Interns: Pam Tzeng, Katherine Holm.
*featured animateurs
Organized by the Prairie Dance Circuit – Brian Webb, Robin Poitras, and framed through Nicole Mion's interdisciplinary Interrarium residencies at the Banff Centre – the symposium also received support also from the Springboard Collective, the Canada Council for the Arts and the Banff Centre itself.
Quotations and paraphrasing are drawn from the written notes of the author.