Version française
15 May 2023
Each step at a time by Charo Foo Tai Wei
by Charo Foo Tai Wei
In honour of Asian Heritage Month, choreographer and performer Charo Foo Tai Wei shares her inspiring journey from Singapore to her current life in Quebec.
In the mid-90s, in Singapore, I bought dance festival packages to watch different kinds of international dance performances. After a show, I would stay behind to have a discussion with the artists. As a dancer, their artistic journey was inspiring and encouraging. I told myself that one day I wanted to step onto an international stage.
2005 I arrived in Quebec with very little knowledge of French. I started to integrate myself into a new country and a new culture with an open mind and curiosity. I went for an audition at the l'École de Danse de Québec, and I got accepted. I could never forget that feeling of excitement and contentment to be part of the school.
To pay my school fees and rent, I started to work as a street performer, performing classical Chinese dance in old Quebec. It helped me discover the street art scene and get in touch with the festivals in the region.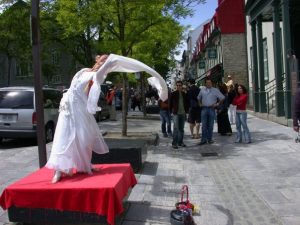 That autumn, I got to perform at cultural events and art festivals in Québec. It built up my confidence in a new environment. I was constantly exploring different performance opportunities to find a feeling of belonging in this new city where I had just landed.
It took me almost 2 years to finally feel at ease.
My school plan didn't go as well as I expected. Due to an injury, I had to stop school for a year. At that moment, I felt devastated and lost, but I didn't want to give it up and go back to Singapore. My inner voice was determined to continue dancing, and that was all I could think about. I continued to work as a street performer, as that was the only legal work I could do back then. I went for a theater audition on my 2nd year in Québec. I remember: the audition was in the morning, and I got a call by the end of the day. That phone call changed my life. In less than a year, I started touring internationally with the company for the next 7 years. I learned and grew with the company, ExMachina. I got to tour, act and dance alongside  theatre director, Robert Lepage, and actress Marie Michaud in the production "Le Dragon Bleu".
I started teaching classical Chinese dance workshops to schools and adults after the tour ended. In 2015, I discovered Butoh. This practice completely changed my view of dance. My body felt welcomed to these teachings with joy. Organic movements, listening to our inner voice, working with our DNA—teachings I couldn't get elsewhere. I keep this Butoh practice vividly with me daily, like a ritual. It really opened my horizons and strengthened my connection with my ancestors.
Since then, I have created work intertwining classical Chinese dance and Butoh. I feel enlightened by this mixed form of art, traditional and avant-garde.
I started to create short dance works in 2017 Lù and 2018 The Beauty Song, which was presented in La petite scène, organised by Le Cercle (QC) and Festival Accès Asie (Mtl).

In 2019, I was selected by the CanAsian Dance Festival to create a piece that pays homage to my Taoist shaman aunt, The Golden Stick Ritual. It was presented at Tangente in January 2021 co-collaborated with Festival Accès Asie. Followed by a Butoh piece, Shù, presented in CanAsian Dance Festival 25th anniversary.

In 2023, I created a new solo work, Yearning. A piece that speaks about personal trauma as an immigrant and how I dig myself out towards the light in this chaotic world.
I left my country in search of a new life without knowing what lay ahead; it is unsettling and challenging. To this day, I am still wandering into the unknown. I do believe that with resilience, perseverance, and determination, there is hope for everything.
Dance has always been my refuge and a safe space for me. It is the only place where I feel at home.
by Charo Foo Tai Wei