Version française
29 April 2023
Quebec Message for International Dance Day 2023
by Jérémy Verain
Dance as a symbol of life
At the invitation of the Regroupement québécois de la danse (RQD), ten artists deliver a message of solidarity to free the expression of the body and claim this right for dance professionals everywhere on International Dance Day.
Québec message for International Dance Day featuring Nasim Lootij, Elahé Moonesi, Thibault Rajaofetra, Lakeysha Lyrykz Desmond, Diana León, Janelle Hacault, Kiasa Nazeran, Emmanuelle Martin, Marco Edouard, and José Flores, choreographed by Kyra Jean Green and Nasim Lootij, directed by Damian Siqueiros, filmed by Max Machado, and produced by the Regroupement québécois de la danse.
Celebrating dance as a symbol of life is the message from Québec in 2023. This campaign pays tribute to and draws inspiration from videos of Iranian artists using dance as a means of resistance and protest, despite the fact that this art form is forbidden in their lives. Dance brings us together and reflects who we are. It belongs to everyone and anyone can claim it. This video is a love letter and a message of support to those who passionately love dance and risk everything to practice it.
"Dance is in my veins […] The youth in this movement celebrate life through dance." Nasim Lootij
"As I slide down the rough black rocks like pure liquid gold, I feel like I can overcome any obstacle with my dance." Elahé Moonesi
"It allows me to keep my creativity moving, that's what dance is for me : My creativity engine. "Thibault Rajaofetra
"Languages passed down through time & sound, spoken through the physical body, pulling from our experiences (Life), giving us somehow a sense of balance within our imbalances. To Dance Freely & Unapologetically Is To Defy Gravity With The Forces Of Nature."Lakeysha Lyrykz Desmond
"Dance is what reminds me who I am, it is my home, my source of peace."Diana León
"At the age of 9, I stepped into a theatre and knew I was home."Janelle Hacault
"Dance is the outpouring, the eruption of the forces of life. Whereas a religious totalitarianism, fanatical and obscure, it is the reign of the forces of the death. It is thus the fight between the forces of life and the forces of death."Kiasa Nazeran
"Dance aligns my being: it vibrates my soul, my body and my spirit as a whole with Nature."Emmanuelle Martin
"For me, dance is an art where everyone can speak freely and understand each other, regardless of the language barrier that may separate us."Marco Edouard
---
DAMIAN SIQUEIROS
Creative director
Multidisciplinary Artist for impact Damian Siqueiros uses art to create positive narratives about the future that lead to healing social and ecological environments. His current project, Terra Sapiens, focuses on representing viable positive futures that stem from the convergence of science, traditional indigenous knowledge, philosophy, art and design. He approaches social and ecological challenges looking for solutions through a synergetic approach. Siqueiros' has 20 years of career and multidisciplinary practice: photography, expanded film, art direction and art education. He has exhibited internationally including at the Carrousel du Louvre, the Frost Museum, Mexico, South Korea, Canada, and New York.
---
KYRA JEAN GREEN
Choregrapher
Kyra Jean Green is a Canadian- American artist born abroad in France, raised in Florida, and currently residing in Montreal, Canada. She obtained her BFA in dance from The Juilliard School in 2006.. After ten years of working as a dancer in 2017, Kyra decided it was time to create her own company which she named Trip The Light Fantastic. The company involves dancers, visual artists, and filmmakers based in the Montreal community. The company's movement language combines contemporary and urban styles as well as structured improvisation. Trip The Light Fantastic dives toward the harsh realities of the individual psyche and the social stigmas that prevent us from reaching our own true liberation. These questions are asked through dance and mixed media in order to inspire positive change in our society. The company made its debut in September 2017 at the Festival Quartiers Danses in Montreal Canada and has since performed in Panama, Denmark, New York, and Portugal. The company in 2021 was invited to participate in C2 as the in-house dance company.
---
MAX MACHADO

Director of photography
Max Machado is a versatile cinematographer who moved a bit around the globe before finding home in Montreal, QC, Canada. He is passionate about creating meaningful, unique and powerful content through fiction films, documentary projects, music videos, art pieces, branded content and commercials. He has shot projects in North America, South America, Europe, the Middle East and is ready for travelling abroad and working with English, French, Portuguese, Spanish or Galician speaking crews.His work has been showcased at CBC, PBS, SXSW, Camerimage, TIFF, Slamdance, Vimeo Staff Picks, Canadian Society of Cinematographers Awards, Canadian Screen Awards, Global News, IDFA, RIDM, DOC NYC, Fantasia, Raindance, Ann Arbor FF, Atlanta FF, Regard, It's All True, FCVQ, VIFF, Clermont-Ferrand, Nouveau Cinéma, RVQC, Newark IFF, and many more.
---
NASIM LOOTIJ
Choregrapher (in collaboration)
Revolting against the prohibitions imposed by the current Iranian regime on all forms of art, especially dance, Nasim Lootij, choreographer and performer, left Iran in 2006. After arriving in Paris, she completed her studies in contemporary dance at the University of Paris 8, at the RIDC and at the Jean Wiener Conservatory before specializing in Laban notation at the CNSMDP. She has also collaborated with several French choreographers, such as Odile Duboc, Christine Gérard, Natalie Pernette, Dominique Dupuy, Alban Richard, Cecile Loyer and Nawel Oulad and has created two pieces: Lalaï (2012) and Bouyé Jouyé Mouliân (2015). Since 2016, she lives and works in Montreal where she co-founded the collective Vâtchik Danse with playwright Kiasa Nazeran. In their creations, they are often inspired by the art and history of Iran, current political issues and German expressionism. Their creations: Moi-Me-Man (2017), La Chute (2019), L'Inconsistance (In progress), Espace Politique (In progress). Nasim has also choreographed dance scenes for two films and a play: 'Damascus Dreams' (2019), 'Nowhere Land' (2020) and 'Black Baloon' (2020). As a performer, she has danced for France Joffrey (2016), Su Feh Lee (2017), Amplement Danse (2021-2023), Kondition Pluriel (2021-22) and Amour Amour (Ongoing) . She has also collaborated with two dance institutions, Fondation Jean Pierre Perreault and RQD (board member) and has given dance workshops at MAI and Studio BIZZ.
---
ELAHE MOONESI
She started her profession in 2001 and graduated from Sooreh University in 2004 with her BA in Theatre directing. Due to her passion for contemporary dance, over many years she has done extensive research on its different techniques and styles, and has participated in different European workshops and courses to broaden her knowledge in the field. She has contributed to the development and the progress of contemporary dance in Iran through many plays that she has directed, choreographed and danced in.
---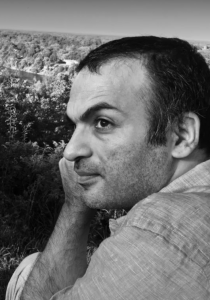 KIASA NAZERAN
Due to the hardening of political conditions, Kiasa Nazeran was forced to abandon his profession as an actor and playwright in Iran and move to France in 2009. In Paris, he deepened his theoretical-practical knowledge of theatrical art by attending the Jacques Lecoq School, the European Academy of Body Theatre, the Sorbonne Nouvelle University and the Bourgogne-Franche-Comté University where he defended his doctoral thesis in October 2020. In order to put his knowledge of the art of dramaturgy to the test on stage, in 2016 he founded the collective Vâtchik Danse in collaboration with choreographer Nasim Lootij. Keen to re-present the political issues and culture of his home country (Iran) to Canadian audiences, he dramaturged "Moi-Me-Man" (2017) and "La Chute" (2019). Adopting an expressionist aesthetic allowed Kiasa to reveal the current anxieties of the Iranian people in these two solos. From the onset of the pandemic and seeing most global bodies unable to respond in time to the vagaries of Covid-19, Kiasa became convinced that it was time for art to address politics more seriously. This conviction gave life to "L'Inconsistance", a choreographic duet in progress where he dances on stage with Nasim.
---
LAKEYSHA "WORD" DESMOND (Word Lunaticus Steez)
Raised in Montreal, Quebec, Lyrykz is a self-taught street artist who learned organically by training at home and traveling to New York to perform with other dancers in a number of styles and foundations. Teaching at various dance schools in Montreal, Ottawa, Quebec and Ontario, she made it a point to participate in every battle and community event she could, winning titles primarily in HipHop, Dancehall and Allstyles. By this time she had already become an official dancer for nightlife events, opening for artists such as Fabulous, co-choreographer for Thugli's Sic'Em, choreographer/performer for 4U2C presented by Cirque du Soleil, weddings, Bar Mitzvahs, youth programs, etc. Lyrykz is a choreographer who does everything from opening for major artists to making music videos to coaching artists and models. Jackson 5 Opener Jazz Festival Montreal, Fabolous, Konshens, Demarco, RYMZ,Tamia Hill, Matrix L'Oreal Fusion Hairshow, Pajar CanCanada, Popcaan,Raptors Fix Yuh…
---
JOSÉ FLORES
A graduate of the École de danse contemporaine de Montréal, José Flores co-founded the collective CORPUS in 2017, which notably signed the short film RESURGO. After his studies, he joined the cast of Saturday Night Fever, presented in Quebec City and Montreal. He is also part of the Mamma Mia production presented by Just for Laughs. In addition to his collaboration with Bouge de là, José works with Destins croisés, under the direction of choreographer Ismaël Mouaraki, the Compagnie Virginie Brunelle and with choreographer Harold Rhéaume (Le fils d'Adrien danse). Passionate about dance movement, José is guided by the idea that the possibilities are infinite when we trust our body's intelligence. He wishes to continue to explore dance in all its complexity, whether as a performer, choreographer or teacher.
---
JANELLE HACAULT 
Janelle Hacault is a professional Filipino/French-Canadian contemporary dance artist, choreographer, teacher, actor and coach based in Montreal, QC. She is a graduate of the School of Contemporary Dancers Senior Professional Program in Winnipeg, an actress by training, and holds an Honours B.A. from the University of Winnipeg. She was co-founder of Nova Dance Collective, 6 Ricochet and co-creator of thedancepost.org. She has had the privilege of working with Nafro Dance Productions, Ming Hon, Compagnie Entitey/Jason Martin, Trip The Light Fantastic (Kyra Jean Green), Charles-Alexis Desgagnés, Morgane LeTiec, Andrea Peña, Sylvain Émard Danse, Les 7 Doigts de la Main, Wynn Holmes, Ani Taj, and Sam Pinkleton have all been nominated for Tony Awards. In 2021, she participated in the 3rd season of Revolution, created her new work at the Festival Quartiers Danses entitled Ce Moment Où… broadcast on MaTV and co-created an original musical with collaborator/musician Jeremy Walmsley entitled, Ships. In 2022, Janelle worked with Sylvain Émard Danse (SED) and 19 other dancers on the show Rhapsodie, presented by Danse Danse, performed Les Préludes (SED) in Trois-Rivières, and toured Annie : la comédie musicale (directed by Serge Denoncourt and choreographed by Wynn Holmes) in Montreal and Quebec City for Just for Laughs. In addition to performing, Janelle has a coaching practice and an online embodiment session that blends dance and meditation.
---
DIANA LEÓN
Born in Mexico City, Diana trained in dance at Estudio de Ballet Tecamachalco, the National Ballet School of Cuba and the Royal Conservatory of The Hague. She was a member of the National Dance Company of Mexico before joining Les Grands Ballets Canadiens de Montréal, where she danced between 2014 and 2019, performing repertoire by Jiří Kylián, Ohad Naharin, Jean Christophe Maillot, Stephan Thoss, Edward Clug, Didy Veldman and Uwe Scholz, among others, and touring in Colombia, France, Spain, Israel and Canada. In 2015, Diana founded the dance company Vías, which she currently co-directs with Paco Ziel, and has presented her work in renowned Mexican venues such as Teatro de la Ciudad Esperanza Iris, the National Center for the Arts and the Benito Juárez Theater; and in Canada at Montreal Arts Interculturels and Domaine Forget de Charlevoix. Since 2016, Diana has been studying vocal techniques with singer Mamselle Ruiz. She was a member of the multidisciplinary laboratory Quantum Collective and has worked as a freelance performer with Montreal choreographers such as Sylvain Émard, Anne Plamondon and Andrew Skeels.
---
EMMANUELLE MARTIN 
It was after completing a degree in Special Education that Emmanuelle considered dance as a career. With a French-Reunionese mixed heritage and Indian roots, she grew up immersed in island culture where dance and music are an integral part of everyday life. Street dances such as hip-hop, Latin dances, and island dances influenced her self-taught encounter with dance. Emmanuelle holds a Bachelor's degree in dance and received academic training in ballet and contemporary dance in France, the United States, and Canada, which allowed her to benefit from a varied and comprehensive approach to this art form.
As a choreographer, in addition to responding to choreographic commissions, she decided to invest in her own creations in 2019 after presenting the duet Angel with her younger sister with multiple disabilities, who is her source of inspiration for life, in France. She even named her company Nouena Danse in her honor. Emmanuelle has since presented her solo Encounter at the Zemmourballet and Quartiers Danses Festivals. Additionally, she presented Chimion at the Quartiers Danses and Vue Sur La Relève Festivals and received several awards. She draws her inspiration from a mix of styles, likes to deconstruct movement to deliver raw and visceral material in search of authenticity. Her new inclusive creation, Anges Lumières, in collaboration with a center for multiple disabilities in France, is progressing well.
---
THIBAULT RAJAOFETRA
Originally from Reunion Island, Thibault first started with hip-hop dance. Wanting to expand his knowledge in dance, he then decided to train at the Montreal School of Contemporary Dance where he graduated in 2018. Thereafter, he continues to refine his dance through various worshops. Being a member of Or pur he had the chance to work with people such as Monstapop or Cindy mc aullife. Thibault's goal is to develop his personal dance around Hip-hop dance and the different knowledge he acquired during his training in contemporary dance.
---
MARCO EDOUARD
A Hip Hop dancer at heart, he has developed his skills by learning a variety of dance styles that also includes many other genres of physical expression, such as Waving and more. Trained in many styles and performing artist, he gives a distinguished understanding of this knowledge of movement, to create a unique and effortless flow.
---
The Quebec Message for International Dance Day is produced by RQD with the financial support of the governments of Quebec and Canada.


by Jérémy Verain