13 décembre 2018
Inclusion and Accessibility as The Number One Priority
My name is Hanako Hoshimi-Caines. I use the pronoun "she". I was born in Quebec to immigrant parents. My whiteness changes depending on the situation in which I find myself. When I was a kid, I was more conscious of not being white. I take the position that politics are always at work and so there is no situation that evades it. I understand being an artist as being involved in a certain kind of subtle activism, which includes, among other things, engaging in the truth of plurality and the interdependence of identities. I used to adhere to the elitism of contemporary/high art simply by accepting "quality" as a universal notion with objective criteria, not situated within any particular culture. I see this now as a way of unconsciously maintaining and reproducing my own whiteness. In writing this text, I want to send deep respect to the people who have dedicated their time to equity and justice on a regular and ongoing basis.
Rethinking the arts hierarchy
As a kid, I often went to the MAI (Montréal, arts interculturels) with my mother, a community worker. I'd think: This is great, but I'm not going to make community art or cultural art; I'm going to make "real" art. This hierarchy, or elitism, in which contemporary art is placed above cultural art, is not neutral and is one way in which white Western European values shapes what is standard, or simply what is the norm. Although I still need to work on dismantling the rigidity of these categorical differences in my own mind, I can say that I see things in nearly opposite terms today: this aesthetic hierarchy, which suppresses a multiplicity of perspectives and maintains blind spots, does not and cannot give value to my work, but impoverishes it ethically as well as aesthetically. And I want what I do to be meaningful. Working to dismantle racist, sexist, classist, ageist and ableist exclusionary structures is the only way of making anything of real value. The MAI is not special and different because it shows cultural art as opposed to "high art", it is special and different because it responds to the whiteness of contemporary art and steps up to open space for a plural reality. I came to "include" the MAI in my understanding of standard art and contemporaneity, which changed how I think of and approach my own work. "Inclusivity" as an institutional goal is problematic when it means integration into established hegemonic norms. "Inclusion" is desirable when it involves an internal process of transformation, an active organization and reorganization of a place with the fluidity of plurality.
Dialogue at the heart of the institution
I'd like to share a recent experience I had this past November, when I spent two weeks working with artist Tanya Lukin Linklater as part of the exhibition Art for a New Understanding: Native Voices, 1950s to Now at the Crystal Bridges museum in Bentonville, Arkansas. I was struck by how the place didn't feel elitist and very soon understood, by speaking to as many different and diverse staff members as I could, that this feeling was not accidental: inclusivity and accessibility was their number one priority. Two initiatives stood out: I was told that anyone working at the museum could start a group to advocate for the needs and interests of marginalized and underrepresented peoples. Each group decides how membership is allocated and what constitutes an ally, i.e. that being an ally involves listening, becoming knowledgeable about specific needs and taking action accordingly. The group shares current events and important issues at quarterly meetings that all staff attends. Secondly, there are numerous informational and educational sessions about the art, the artists and the salient political points of the temporary exhibitions, so that every person working at the museum can be a knowledgeable and welcoming host to visitors and artists alike. These actions translated into a place that belonged to the people working there, no matter the position they occupied within the museum hierarchy. The sense of individual agency for a diverse group of people made the space "inclusive". Making the place livable and welcoming to everyone involved accepting disagreement and imperfection as an ongoing part of making the museum better. That I am surprised at all by this experience made clear how habituated I am to the feeling of elitism in most contemporary art and dance spaces in Quebec.
From this I would like to see dance and art institutions in Montreal make inclusion and accessibility the number one ongoing priority, as opposed to seeing it as an adjacent institutional goal. And as I saw at the Crystal Bridges museum in Arkansas, this begins inside the institution. The facilitation of plurality, through the divestment of hegemonic and hierarchical power, is not separate from but integral to an active and actual formulation of "contemporary" artistic quality.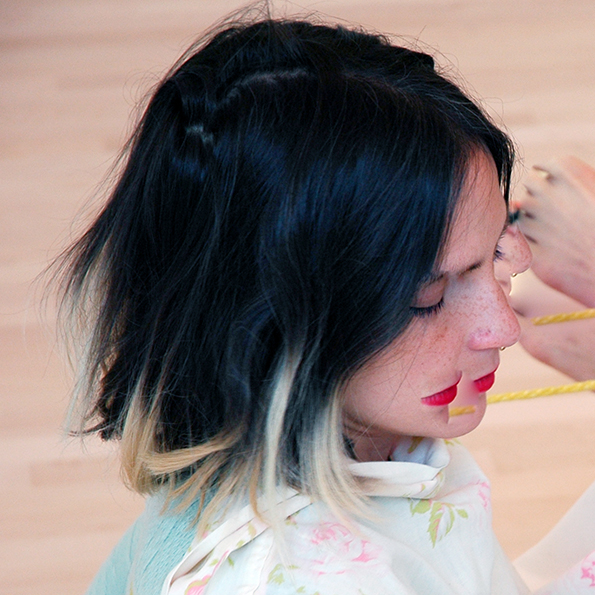 Hanako Hoshimi-Caines is a choreographer and dancer based in Montreal. She is committed to an emo-critical engagement to dance, choreography and philosophy as a way to see, feel and love better. And what she means by love is an ambiguous kind of knowledge that is necessarily embodied, transformative and involves time and intimacy with things. Her works have been shown in Canada at Agora de la danse, Phi Centre, the MAI, Tangente, Studio 303, OFFTA, the 3rd floor residency at the Usine C, POP Montreal, as well as Riksteatern (Stockholm), Kampnagel (Hamburg), Kunstfestival BEGEHUNGEN No. 9 (Chemnitz) and DNK (Sofia, Bulgaria). Hanako has performed for/collaborated with Stephen Thompson and Andrew Tay, Jacob Wren, Adam Kinner, Frédérick Gravel, Tanya Lukin-Linklater, José Navas and with the Cullberg Ballet (Stockholm) with Benoît Lachambre, Deborah Hay, William Forsythe (Human Writes) and Jefta Van Dinther amongst others. She is currently pursuing a degree in philosophy at Concordia University with a penchant for feminist ethics and performativity. Her next work titled Radio III will premier at the MAI (Montreal, arts interculturels) in June 2019.
Hanako Hoshimi-Caines © Nadège Grebmeier Forget